3 Ways Small Businesses Can Use AI to Drive Growth
For businesses looking to optimize their operations and improve customer experience (CX), artificial intelligence (AI) has become a revolutionary technology: systems that can perform complex tasks that normally require human intelligence, such as speech recognition, decision making, and content. Creation.
With its ability to automate processes and personalize experiences, AI, including platforms like ChatGPT, has become an invaluable asset for businesses of all sizes. For small businesses, AI offers three strategic benefits: improve customer service, enhance marketing and sales, and drive growth.
Customer Experience
As companies look to improve CX, AI is becoming a powerful tool for customer service. Chatbots are becoming more common due to their ability to mimic human conversations and perform routine tasks. By using chatbots, small businesses can provide fast, seamless customer service while reducing wait times and staff costs. In addition, chatbots can learn from customer experience, constantly improving their accuracy and efficiency.
AI-powered chatbot platforms such as ChatGPT provide a user-friendly and customizable experience for businesses. Using natural language processing, these platforms can efficiently recognize and respond to customer requests to ensure that customers receive personalized attention, which improves overall satisfaction.
Automation is another way to use AI for customer service. With customer service automation, businesses can automate routine tasks such as sending order confirmations and tracking support tickets, saving time and resources while ensuring consistent and timely communication. Some automation tools can allow businesses to integrate with other applications such as customer relationship management (CRM) software, creating a more efficient and streamlined workflow.
By implementing AI for customer service, companies can create a more efficient and responsive customer base. increasing customer loyalty and stimulating business growth.
marketing
Small businesses can use the power of artificial intelligence to create personalized marketing campaigns, collect and analyze customer data such as behaviors, preferences, and demographics, to create marketing messages that resonate with customers as individuals – much like a TV streaming service. may use artificial intelligence algorithms to offer personalized content recommendations based on users' browsing history..
To implement personalized marketing, businesses can use powerful tools that enable businesses to create customer segments and send targeted marketing messages, including email campaigns, social media ads, and other targeted content that directly addresses each customer's unique needs and interests.
content
In addition to personalized marketing, small businesses can also use AI to optimize content creation. AI-based tools can analyze data about what types of content work best with specific audiences and suggest topics and titles based on that data. In addition, AI can automatically generate content such as product descriptions, news articles, and even photo and video content. However, businesses must still ensure that the content is of high quality and in line with their brand identity and messages.
By applying AI, small businesses can open up a new level of marketing personalization by connecting with their customers more effectively. As AI technology continues to evolve, companies that invest in AI-based marketing solutions can gain a competitive edge over their competitors.
Small business revolution
Small businesses can benefit a lot from the use of AI technology. Through the use of chatbots and customer service automation, businesses can offer faster and more efficient customer service. AI-powered personalized marketing campaigns can help strengthen customer connections and build brand loyalty. In addition, AI-powered content creation tools can simplify the content creation process, saving companies time and money.
AI has the potential to revolutionize the way small businesses operate, providing a competitive advantage and allowing them to scale and grow in new ways. It is important for businesses to keep abreast of the latest advances in AI and leverage AI-powered tools and platforms to stay competitive and thrive in the digital age.
---
learn The Paysafe Small Business Program can help your organization save money and access the latest payment processing technologies so you can focus on what matters most – growing your business.
Biden Asks Congress for New Tools to Deal with Failed Bank Executives
WASHINGTON. On Friday, President Biden asked Congress to pass legislation giving financial regulators sweeping new powers to seize ill-gotten gains from bankrupt bankers and impose penalties for failures.
The proposal, in response to last week's federal bailout of depositors at Silicon Valley Bank and Signature Bank, would also seek to bar bankrupt bank executives from other positions in the financial industry.
The measures contained in Mr. Biden's plan will build on the existing regulatory powers of the Federal Deposit Insurance Corporation. Administration officials were still weighing on Friday whether to ask Congress for further changes to financial regulation in the coming days.
"Increasing accountability is an important deterrent to future mismanagement," Mr. Biden said in a statement released by the White House.
"When banks fail due to mismanagement and excessive risk, it should be easier for regulators to seek compensation from executives, impose civil sanctions and again ban executives from the banking industry," he said, adding that Congress should pass legislation to make this possible.
"The law limits the administration's powers to hold executives accountable," he said.
One clause of the proposal would expand the FDIC's ability to recover bankrupt bank executives in response to reports that a Silicon Valley Bank chief executive sold $3 million in bank stock shortly before federal regulators took him away. a week ago. Regulators' current powers to recover funds are limited to the largest banks; Mr. Biden will expand them to include banks the size of Signature and Silicon Valley Bank.
Unlike top Silicon Valley Bank officials, a senior Signature Bank chief executive and one of his board members bought the firm's shares last Friday when it was in turmoil, regulatory reports show. Signature Chairman Scott Shea bought 5,000 shares of Signature and one of its directors, Michael Pappagallo, bought 1,500 shares.
The President is also asking Congress to lower the legal barrier that the FDIC must remove to bar the bankrupt's bank manager from working anywhere else in the financial industry. This option currently only applies to executives who "deliberately or persistently neglect the safety and soundness" of their institutions. It also seeks to expand the agency's ability to impose fines on executives whose actions contribute to the failure of their banks.
The proposals face an uncertain future in Congress. Republicans control the House of Representatives and oppose Mr. Biden's other attempts to tighten federal rules. A 2018 law to repeal certain banking regulations that were approved in the wake of the 2008 financial crisis was passed by the House and Senate with bipartisan support.
Montana Republican Sen. Steve Danes chided Mr. Biden for focusing on regulation and indicated that he would not support any move to introduce new rules in the banking sector.
"What we don't need is more onerous rules for well-managed and sound Montana banks that haven't failed," Mr. Danes said in a statement Friday night.
Democrats have been much more vocal in their support for the call for new rules. Senate Banking Committee Chairman Sherrod Brown of Ohio said in a statement emailed to reporters that regulators need "stricter rules to curb risky behavior and expose incompetence."
He added that in addition to leaders who failed in their duties, there should be a way to hold "the regulators who are tasked with watching them" accountable.".
In a letter to the chairs of the Securities and Exchange Commission, the FDIC and the Fed, Representative Maxine Waters, a Democrat of California, asked regulators to use the "maximum extent" of their current powers to detain senior executives and executives from both banks. are accountable to the directors of the board of directors.
She added that the Dodd-Frank Act, enacted in the wake of the 2008 financial crisis, gave agencies more power than they have so far used to tie financial industry executive compensation to successful risk management strategies.
"While I am moving quickly to develop legislation on foreclosures and other collapse-related matters, it is imperative that your agencies act now to investigate these bank failures and use the available enforcement tools you have available to engage executives. to full responsibility for any illegal activity. she wrote.
On post-Brexit Britain and the future of conservatism
The message of the end of austerity has certainly reached the Center for Policy Studies (CPS). On June 10, the CPS launched Post-Brexit Britain, a new collection of essays edited by George Freeman, written largely by his fellow 2010 MP recruiters. CPS rented the largest room at 1 George Street, a huge hall adorned with gilding and portraits of bearded Victorians, and treated guests not only to decent sandwiches, but also to champagne and scones with cream and strawberries. Several leadership candidates such as Sajid Javid and Dominic Raab made speeches. Penny Mordaunt cackled like a mother hen (I wonder if her decision not to run in this leadership election could prove that she is the most sensitive student in the class of 2010). Mr. Freeman loudly declared that his book gives the party "a new conservatism for a new generation" and the intellectual tools it needs to fight the resurgent far left.
His enthusiasm is infectious. But he asks too much. His book is more like a priest's egg than a Viagra pill capable of resurrecting a flagging conservative philosophy, not to mention a hand grenade aimed at the headquarters of Corbinism. In his preface, Mr. Freeman rightly argues that the Conservative Party is facing a crisis of the same magnitude as it faced in 1848, 1901, and 1945. to the fact that Thatcherism offers no obvious solution to pressing problems like overcrowded suburban trains. Various participants are also addressing issues that conservatives have shied away from, such as the importance of devolution.
However, much of the book demonstrates how difficult it is for a party to get intellectual refueling while still in government. Matt Hancock's head of health secretary is startlingly bad: predictable praise for technological innovation, devoid of interesting examples, and written in a string of clichés. (One well-read Tory quipped that the fact that the chapter was so bad proved that it was written by its supposed author and not by an assistant.) The book as a whole is noticeably free from detailed discussion of such topics as social assistance. (the issue that killed the party in the last election) or corporate reform. The Conservative Party as a whole will have to do more than that if it is to make a strong case against the resurgent far-left Labor Party.
****
Great cover pack this week New statesman to "Closing the Conservative Mind" (with the promise of more!). Robert Saunders argues that the Conservative Party has always been a party of ideas much more than it wants to pretend: its resurgence in the 1940s and especially in the 1980s was due to its willingness to embrace radical new thinking about the basic building blocks of society. . But now, instead of ideas, the party has nothing but the ideology of kamikaze ("Brexit or crash") and empty faith in markets and technologies (see above). Theresa May was an idea-free zone (compare her to Lord Salisbury or Arthur Balfour). Boris Johnson, her almost certain successor, is no longer an intellectual, despite his ability to quote Latin tags. There are some interesting thinkers in the party, like Jesse Norman and Rory Stewart (both sadly old Etonians), but it's much more the party of Gavin Williamson, a former fireplace salesman who boasts of a lack of interest in political theory. than a party of these eccentric "reading men".
The job is well done. But can't this apply equally well to liberal thinking or Labor thinking – or perhaps to Western thinking in general? The Blair-Cameron-Clinton liberalism that dominated politics in the 1990s and early 2000s has run its course. This liberalism was based on a simple formula: just add social liberalism to economic liberalism and you have the ingredients of a good society. More astute observers of politics have always known that this is too good to be true: Daniel Bell, in his book The Cultural Contradictions of Capitalism, demonstrated that social liberalism can destroy the moral capital that forms the basis of economic liberalism.
But over the past few years, we have learned that Mr. Bell rather underestimated the contradictions of his position. The biggest problems that most capitalist societies currently face stem from the extremes of both forms of liberalism. The excesses of economic liberalism have given us giant corporations that stifle competition and, in the case of Internet companies, develop a sinister form of surveillance capitalism. The excesses of social liberalism have given us various forms of social breakdown that can be seen in the most extreme manifestations in America: a record number of broken families; an epidemic of drugs, especially opioids; millions of men who have dropped out of the labor force and lead a life of petty crime and binge watching TV. It is unfair to blame only social liberalism for these problems. They have a lot to do with the destruction of manufacturing jobs and the legacy of slavery. But social liberalism clearly has something to do with it: loosening inhibitions on self-destructive behavior leads people to make decisions that, in the long run, may leave them either addicted to drugs or lacking the skills or self-discipline to become productive members of society. A prime example of the collapse of dual liberalism is San Francisco, where hundreds of homeless drug addicts live on the streets, and tech billionaires and would-be billionaires must dodge piles of human feces as they go to the latest sushi craze. compound.
And then there is Labor thinking. The Labor Party responded to the collapse of neoliberalism not by trying to create a new progressive synthesis, but by re-embracing one of the bloodiest ideologies of the 20th century. Jeremy Corbyn, the man who makes Theresa May look like an intellectual, has surrounded himself with hardline Marxists like Andrew Murray and Seamus Milne. pages of David Kot's book "Companion Travelers". John McDonnell, the Shadow Chancellor, is undoubtedly one of the smartest men in Parliament, inclined to reinforce his Trotskyism with ideas borrowed from other traditions, especially the cooperative one, and able to use new ideas (such as taking 10% of the shares into state ownership) for old purposes. But the fact that he is such an energetic walker should not hide from us the fact that he is going in the wrong direction and is trying to bring his country off the cliff. As long as this gang is in power, Labor's mind is not so much closed as dead.
****
V New statesman the cover more or less coincides with the publication of George Will's new great work, a 640-page study of conservatism called "Conservative Sensibility" (Mr. Will says he chose "sensibility" over "reason" because "reason" was already occupied by Russell Kirk). The "Conservative Sensibility" – a stream of philosophical reflection on the great American and European conservative traditions – is proof that at least one conservative mind is still open. Mr. Will still surpasses all his rivals in his ability to combine high thinking with a shrewd ability to understand everyday American politics. The reception of the book is also evidence that it was not only conservative minds that were closed: when, as a Princeton graduate, he recently approached a group of Princeton students, these privileged children decided to turn their backs on him for various unknown intellectual sins. But Mr. Will's book also implicitly supports the thesis of closing the conservative mind: it's hard to imagine any of today's embittered young conservatives of the "movement" who would have lasted fifty years in journalism like Mr. Will, and still have enough strength. to, let's say, release a big book at 78 years old.
Silicon Valley bank parent company seeks bankruptcy protection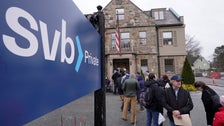 The parent company of Silicon Valley Bank, taken over last week by the US, files for Chapter 11 bankruptcy protection.
The SVB Financial Group, along with its CEO and Chief Financial Officer, came under attack this week. class action it alleges that the company did not disclose the risks of future interest rate hikes to its business.
SVB Financial Group is no longer affiliated with Bank of Silicon Valley after being taken over by the Federal Deposit Insurance Corporation. His collapse was the second largest bank failure in US history after his death. Washington Mutual in 2008.
The bank's successor, Silicon Valley Bridge Bank, is under FDIC jurisdiction and is not included in the Chapter 11 filing.
"The Chapter 11 process will allow SVB Financial Group to preserve value as it evaluates strategic alternatives for its valuable businesses and assets, especially SVB Capital and SVB Securities," William Kosturos, chief restructuring officer at SVB Financial Group, said Friday. .
Regulated broker-dealer SVB Securities and venture capital funds, as well as private lending fund platform SVB Capital and its general partner organizations are not included in the Chapter 11 application and continue to operate as usual.
SVB Financial Group's funded debt is approximately US$3.3 billion in aggregate principal of unsecured notes. There are no claims against SVB Capital or SVB Securities. SVB Financial Group also has $3.7 billion of preferred shares outstanding.
SVB Financial Group estimates that its liquidity is approximately $2.2 billion. The Santa Clara, California-based company said it also has other high-value investment securities accounts and other assets for which it is exploring strategic options.